7th Aporta Meeting 2017
Share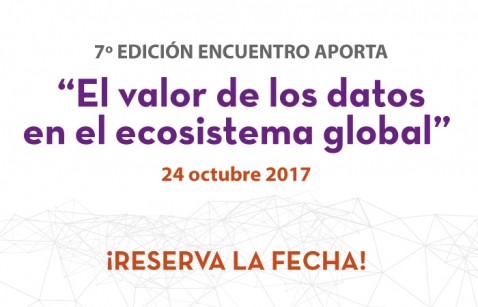 The seventh edition of the Aporta Meeting will be held next October 24, and this year has as its motto "The value of data in the global ecosystem", in which experts in open data, both national and international, will describe their views regarding the publication of public sector data and its reuse.
The meeting, open to all, will be organized in morning and afternoon sessions with round tables, talks and presentations. In the afternoon, as the final act of the conference, the Aporta awards will be given (aimed at recognizing the best experiences already completed in reuse of public data), as well as the awards to the winners of the Aporta Challenge (ideas, applications , solutions and/or services that use and reuse public data contributing to an improvement of efficiency in public administrations in Spain).
The event, which will also have various pre-events of a sectoral nature on the previous days, is organized by Red.es in collaboration with the Ministries of Energy, Tourism and Digital Agenda, and Finance and Public Function.