The Aporta Initiative participates in the Open Data Leaders Network meeting in London
Share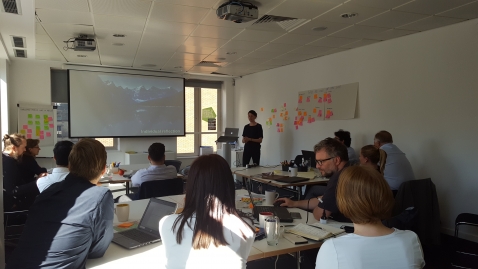 The Aporta Initiative (datos.gob.es) is present from Monday 22 May until Wednesday morning at the Open Data Leardes Network (ODLN) meeting held at the headquarters of the Open Data Institute (ODI) in London, bringing together leaders of government open data initiatives in Europe.
Open Data program managers and managers from eleven European countries (Italy, Germany, Spain, Lithuania, United Kingdom, Slovenia, Denmark, Switzerland, Latvia and the Netherlands) are present at this event to exchange experiences and analyse objectives regarding the management of public administration open data . These exchange days are conceived as an opportunity for managers who lead the design and implementation of the open data programs of their respective governments to meet and share experiences on open data.
Among the topics that will be addressed during the three sessions of the Open Data Leaders Network, the highlights will be "Orientation of communication: who are your users?", "Open data leadership: what do you want to tell them?" and "Talking about open data". Attendees will have the opportunity to hear first-hand two startups -Globechain y ET Index- that use open public data and examine how users discover and interact with data, as well as share experiences with open data in the sessions "Leading the Open data exchange in government" and "Policy design patterns" in which they can explore different policies related to the data that government agencies and departments are carrying out. The Open Data Leardes Network has also raised in this meeting how to persuade the public of the value of open data.
The Open Data Leaders Network aims to connect open data coordinators and consultants in public administrations and/or entities to exchange ideas, discuss strategies and problem solving, and share ideas to address the challenges of implementation and consolidation of Data. These meetings are supported by the International Development Research Centre as part of the Open Data for Development (OD4D) network and the European Commission.
The first meeting took place in February 2015 with the participation of those responsible for the implementation of government open data initiatives in the United Kingdom, Chile, Morocco and Macedonia, among others.
More information about the programme and attendees: https://theodi.org/open-data-leaders-network