Asedie announces the 11th edition of the International Conference on the Reuse of Public Sector Information
Share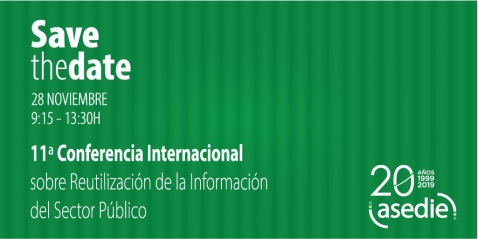 November 28 is the date chosen by Asedie (Multisectoral Information Association) to hold its International Conference on the Reuse of Public Sector Information. As on previous occasions, the event will bring together representatives of public bodies, reuse companies and experts in the field, who will analyze the challenges and opportunities facing the sector.
According to the latest edition of the report on the Infomediary Sector carried out by Asedie, the turnover of the sector grew by 5.4% during the last year analyzed (2017) in Spain, reaching an aggregate turnover of almost 1.8 billion euros and employing more than 20,000 workers, which shows its economic and social value for all citizens.
This year's conference will revolve around the theme "Collaboration and Homogenization: key aspects in the information ecosystem". The appointment will begin at 9:30 with the welcome of José Antonio Gil Celedonio, Director of the Spanish Patent and Trademark Office, where the event will be held. Next, Ignacio Jiménez, President of Asedie, will open the event, which is structured as follows:
The event will begin with the interventions of Szymon Lewandowski (European Commission), Cristina Morales (Ministry of Economy and Business) and Isabel Moya Pérez (Ministry of Territorial Policy and Public Function), who will talk about new initiatives and barriers, both European as national level, in the field of the reuse of the public sector information.
Next, the representative of the ASEDIE Special Prize, delivered in 2018 to the Spanish National Geographic Institute, Emilio López Romero will speak.  The 2019 ASEDIE Prize will be awarded below.
After coffee it will be the turn of Julián Prieto Hergueta, of the Spanish Data Protection Agency, who will analyze the current situation regarding the European guidelines on data protection and its impact on Spain.
Finally, the round table "Autonomous Communities: Current situation, barriers and future prospects" will take place. The table will be moderated by Valentín Arce, Vice President of Asedie, and will be attended by Ricardo Cantabrana González (Aragón), Joaquín Meseguer (Castilla y León), Borja Mayor (Madrid) and David Martínez Victorio (Murcia) who will discuss the need of  normalizing of information.
Ignacio Jiménez, president of Asedie, will close the event again at 1:30 p.m.
You can see the full agenda here and sign up for this link.