DATAGRI 2018 seeks to promote digital transformation in agri-food sector
Share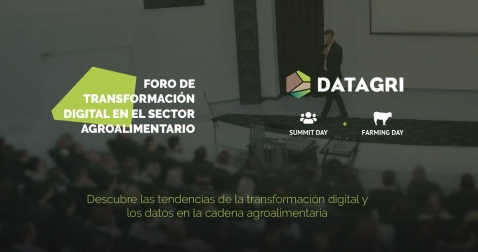 The next 26th and 27th of November DATADRI is celebrated in Córdoba. It is a reference event for the digital transformation of agricultural sector. During two days, the challenges and opportunities of the sector will be addressed, paying special attention to the competitive advantages that new technologies and data analysis can bring.
Junta de Andalucía, Ministry of Agriculture, Fisheries and Food, and Ministry of Science, Innovation and Universities, among many other organizations and companies, collaborate with the event. You can see the entire list of sponsors and contributors here.
What is the purpose of the event?
The event responds to three objectives:
Promote digital transformation in agri-food chain.

Sensitize about success cases.

Contribute to reduce barriers to digital transformation implementation, creating best practices standards and opportunities for collaboration.
What is the agenda?
DATAGRI is made up of two sessions, the Forum Day, which will be held on November 26, and the Farming Day, which will take place on the next day.
The Forum Day will be integrated by different key note and round tables, with the participation of farmers, technology companies, representatives of public administration and experts who will share their vision and experience, with special focus on new trends. Among other technologies, they will talk about robotics, Internet of Things or drones, and how its application can help boost a more sustainable and efficient agri-food sector. The session will end with a debate, entitled "Who has to lead the digital transformation in the sector?".
For its part, the Farming Day will be integrated by two workspaces. On the one hand, a working space called "Operative Groups as a driver for the digitization of the sector" followed by the "Digital Agenda workday for the agri-food sector and the rural environment" (invitation will be necessary to attend this session).
In parallel, attendees could enjoy a series of demonstrations and exhibitions, to discover first-hand how the latest technologies can boost their business and improve their competitiveness.
What do I have to do to attend?
Those interested in attending the event must pre-register at the following link.