Presentation of the report on the reuse of data and business generation
Share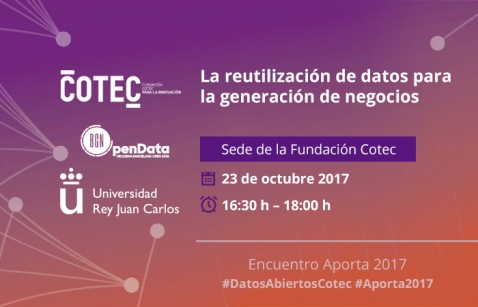 On October 23, the day before the Aporta Meeting 2017, the report "The reuse of data for business generation" will be presented, which analyses published data and the portals where it is published, together with those responsible for its management and services generated from it.
During the session, which will take place - from 4.30pm to 6.00pm - at the headquarters of the Foundation for Innovation COTEC, the data in the report will be presented and a debate will be opened on the key aspects related to the publication of data to generate new services, as well as on the opportunity for a European association of data publishers.
The organisation of this day, will be published on social media with the hashtag #DatosAbiertosCotec, the Barcelona Open Data Initiative and the King Juan Carlos University will participate and it will be led by the open data expert Alberto Abella.
The conclusions of the event will be presented on October 24 during the afternoon of the Aporta Meeting 2017.