How open data can help in the refugee crisis
Share
Fecha de la noticia: 07-08-2019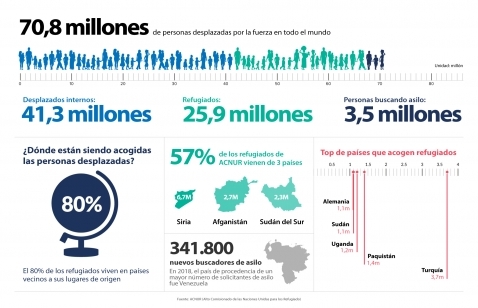 According to the United Nations Agency for Refugees (UNHCR), we are currently witnessing the highest levels of displacement of people registered in recent history. In 2019, it is estimated that more than 70 million people have been forced to leave their homes, including 25.9 million legal refugees, more than half of them minors. Almost every two seconds a new person is forced to move by force as a result of a conflict or persecution, 37,000 people each day. More than a half of these displaced people come from only three countries - Syria, Afghanistan and South Sudan - and are mostly hosted by other bordering countries.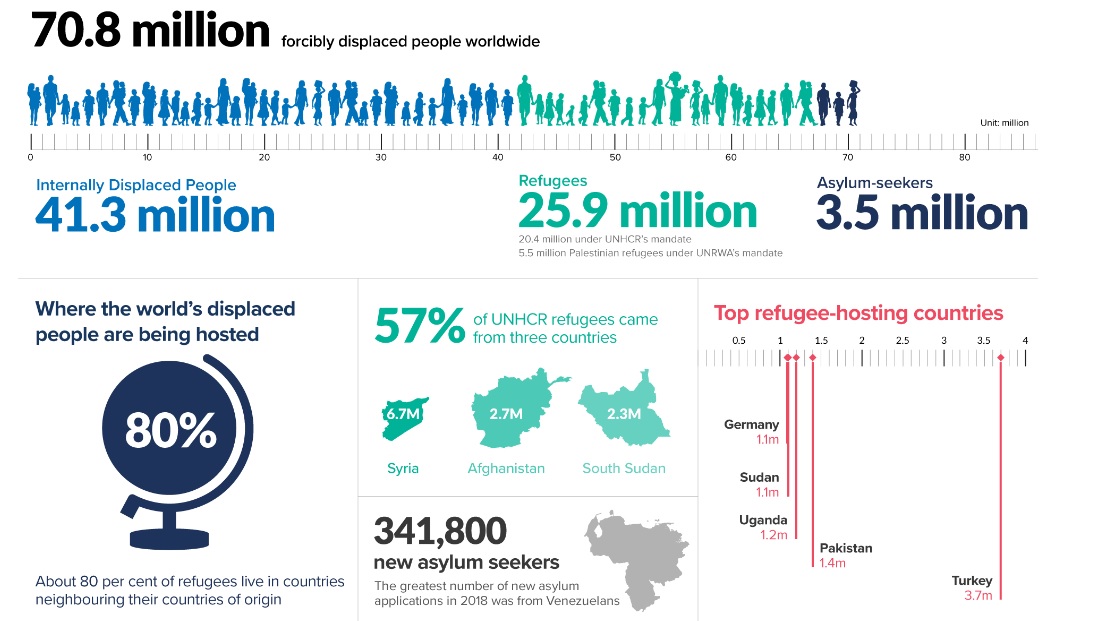 Open data and resources on immigration and refugees
All these data are provided by UNHCR itself, and they are useful not only as a first approximation to understanding the magnitude of the problem we face, but also as the first example of how open data can also be useful to analyze, confront and find solutions for the refugee crisis. And it is that the UN refugee agency has a large amount of open data resources related to the subject, including for example a historical dashboard of refugee movement flows or the map of refugee crises, through which you can access detailed profiles of specific cases. Other useful tools that they provide us with are the resettlement data search engine and also the indicators of drinking water, sanitation and hygiene (WASH) whose objective is to guarantee a decent minimum conditions for all the displaced. Its office for coordination of humanitarian actions also has a simple but very interesting catalog of open humanitarian data (which includes immigration) and a section with many other resources and tools.
In addition, the International Organization for Migration (IOM) - also related to the United Nations - has its own open data portal on migration that will be very useful not only when analyzing the variables that influence the flows of migration and the impact that these have on the most vulnerable groups, but also other certainly interesting aspects such as migration policies in different countries or the evolution of the impact of public opinion on the migrant group.
As we have seen, the United Nations, together with its partner agencies, is probably currently the most complete source of data available on the subject, but it is not the only one. Other relevant international entities also have their specific databases on immigration, such as the World Bank, although perhaps with more limited resources. There are also other non-governmental organizations, such as openmigration.org or the Internal Displacement Observation Center (iDMC) that offer us their dashboards to analyze data, their own databases, very useful infographics to make the problema visible, risk prediction tools, historical series of refugee displacements and fact-checking tools to verify, contrast and complement official data.
Reuse of open refugee data
On the other hand, apart from all the possible sources of data and tools that we have seen so far, it is also interesting to observe the use that others are making of those data and the other available resources. For example, some interesting use cases may be the collaborative analysis of the open images of UNOSAT for support in humanitarian crises, the analysis of the role of open data in the Syrian crisis or the study on the impact of immigration on the criminality in Hong Kong. Other examples are case studies published by some European countries, reports for emergency response coordination or, purely academic, the creation of predictive models of immigration flows made from multiple data sources, which include other conditions such as weather or relevant news.
Also noteworthy are initiatives such as Data for Refugees or HackforHomeless, which through practical and collaborative workshops (in the style of hackathon) foster a new approach to social impact through innovation in the treatment of refugee crises, using data as a tool to find solutions that contribute to improving the living conditions and basic rights of the displaced, acting in areas such as security, health, education, employment and integration.
Finally, although we have seen several examples of how open data can once again be a very useful tool when it comes to understanding and trying to alleviate the growing problem of displaced and refugee people, we must not forget that as a particularly vulnerable group it is essential to guarantee at the same time their privacy and the adequate protection of their personal data. That is why other organizations, such as the Center for International Governance Innovation (CIGI) or the Red Cross, have published their own recommendations to ensure privacy protection and avoide unwanted damage due to to the potential abuse of that data.
So, once again, we see how the greater the variety of data available, the more resources we will have to analyze, understand and respond to the problems in our society. Being able to guarantee the availability of adequate data is becoming a necessary condition when defining all types of public policies with greater success.
---
Content prepared by Carlos Iglesias, Open data Researcher and consultan, World Wide Web Foundation.
Contents and points of view expressed in this publication are the exclusive responsibility of its author.