How 2023 will become the 'European Year of Skills', also in open data
Share
Fecha de la noticia: 21-03-2023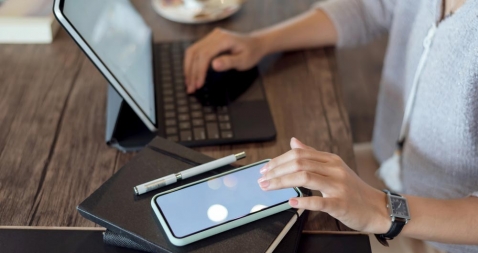 In recent years, we have been witnessing a technological revolution that increasingly pushes us to broaden our training to adapt to the new digital devices, tools and services that are already part of our daily lives. In this context, training in digital skills is more relevant than ever.
Last October, the European Commission, led by its President Ursula Von Der Leyen, announced its intention to make 2023 the "European Year of Skills", including digital skills. The reason lies in the difficulties that have been identified among European citizens in adapting to new technologies and exploiting their full potential, especially in the professional sphere.
The European digital skills gap
According to data provided by Eurostat, more than 75% of EU companies have reported difficulties in finding professionals with the necessary skills to do the job they are looking for. Moreover, the European Labour Agency warns that there is a severe shortage of ICT specialists and STEM-qualified workers in Europe. This is exacerbated by the fact that currently only 1 in 6 IT specialists is female.
When it comes to digital skills, the figures are not flattering either. As noted in the Digital Economy and Society Index (DESI), based on data from 2021, only 56% of the European population possesses basic digital skills, including information and data literacy, communication and collaboration, digital content creation, security and problem-solving skills.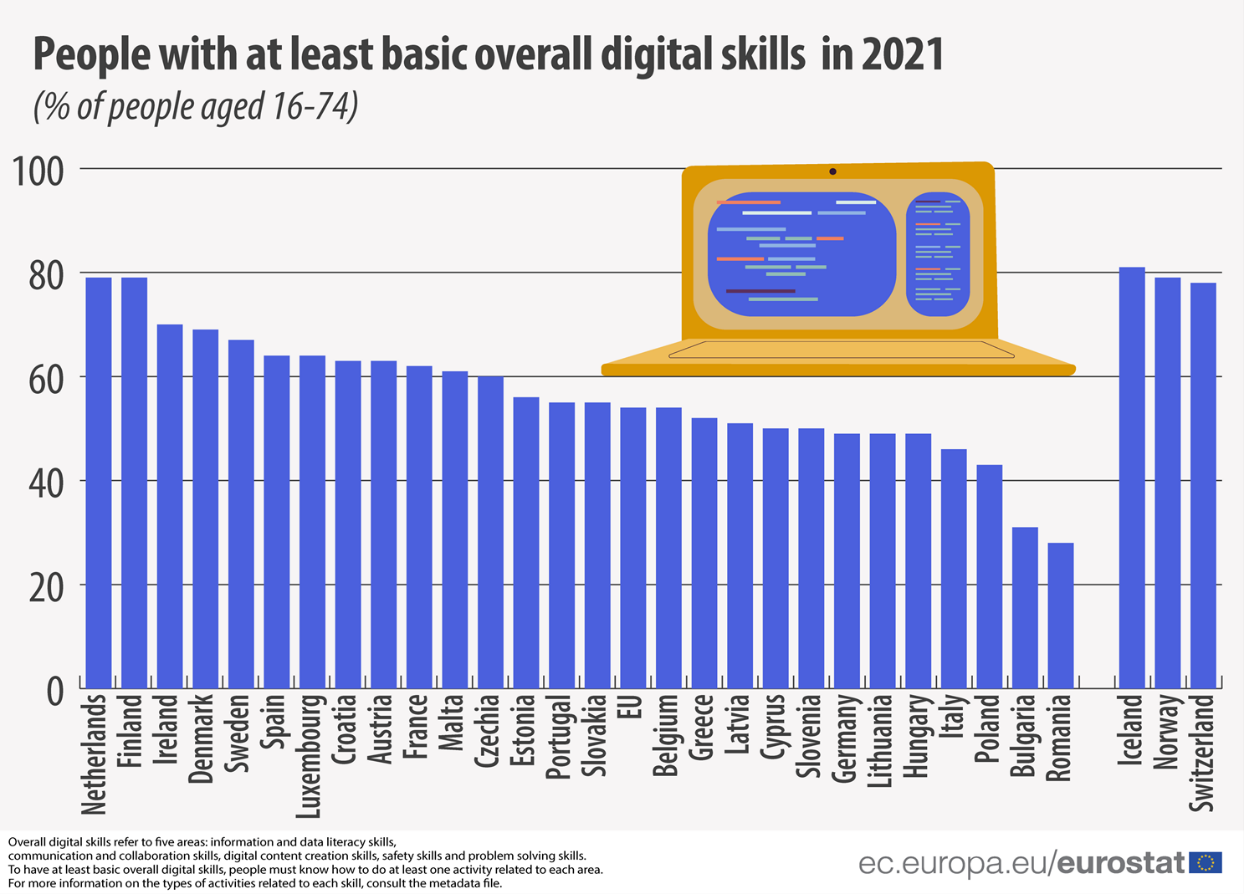 EU citizens with the least basic digital skills by country. Source:  Eurostat, 2022.
European initiatives to promote the development of digital competences
As mentioned above, improving education and digital skills is one of the major objectives that the European Commission has set for 2023. If we look at the longer term, the goal is more ambitious: The EU aims for at least 80% of EU adults to have basic digital skills such as those mentioned above by 2030. In terms of the professional sector, the target focuses on having around 20 million ICT professionals, with a significant number of women in the sector.
In order to realise these objectives, there are a number of measures and initiatives that have been launched at European level. One of them stems from the European Skills Agency, whose action points 6 and 7 are focused on improving all relevant skills for the green and digital transitions, as well as increasing the number of ICT graduates.
Through the NextGenerationEU funds and its Resilience and Recovery Mechanism, EU member states will be eligible for support to finance digital skills-related reforms, as €560 million will be made available for this purpose.
In addition, other EU funding programmes such as the Digital Europe Programme (DEP) or the Connecting Europe Facility (CEF) will respectively offer financial support for the development of education programmes specialised in digital skills or the launch of the European Digital Skills and Jobs Platform to make information and related resources available to citizens.
Alongside these, there are also other initiatives dedicated to digital skills training in the Digital Education Action Plan, which has created the European Centre for Digital Education, or in the mission of the Digital Skills and Jobs Coalition, which aims to raise awareness and address the digital skills gap together with public administrations, companies and NGOs.
The importance of open data in the 'European Year of Digital Skills'.
In order to promote the development of digital skills among European citizens, the European open data portal carries out several actions that contribute to this end and where open data plays a key role. Along these lines, Data Europa remains firmly committed to promoting training and the dissemination of open data. Thus, in addition to the objectives listed below, it is also worth highlighting the value at the knowledge level that lies behind each of the workshops and seminars programmed by its academic section throughout the year.
To support Member States in the collection of data and statistics on the demand for digital skills in order to develop specific measures and policies.
Work together with national open data portals to make data available, easily accessible and understandable.
Provide support to regional and local open data portals where there is a greater need for help with digitisation.
Encourage data literacy, as well as the collection of use cases of interest that can be reused.
Develop collaborative environments that facilitate public data providers in the creation of a smart data-driven society.
Thus, just as data.europa academy functions as a knowledge centre created so that open data communities can find relevant webinars and trainings to improve their digital skills, in Spain, the National Institute of Public Training includes among its training options several courses on data whose task is to keep public administration workers up to date with the latest trends in this field.
In this line, during the spring of 2023, a training on Open Data and Information Reuse will take place, through which an approach to the open data ecosystem and the general principles of reuse will be carried out. Likewise, from 24 May to 5 June, the INAP is organising another course on the Fundamentals of Big Data, which will address blocks of knowledge such as data visualisation, cloud computing, artificial intelligence and the different strategies in the field of Data Governance.
Likewise, if you are not a public sector worker, but you are interested in expanding your knowledge of open data, artificial intelligence, machine learning or other topics related to the data economy, in the blog and documentation section of datos.gob.es you can find adapted training materials, monographs on various topics, case studies, infographs and step-by-step visualisations that will help you to understand more tangibly the different theoretical applications involving open data.
At datos.gob.es, we have prepared publications that compile different free training courses on different topics and specialisations. For example, on artificial intelligence or data visualisations.
Finally, if you know of more examples or other initiatives dedicated to fostering digital skills both at national and European level, do not hesitate to let us know through our mailbox dinamizacion@datos.gob.es. We look forward to all your suggestions!