Workshop II: The culture of open data
Share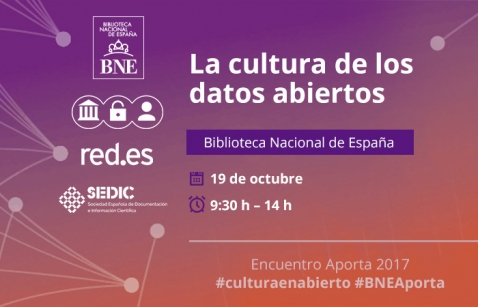 Next October 19th will be the second workshop of "The Culture of Open Data", which this year has the aim of opening the focus to discover how the re-use of public sector information, in general, and cultural data especially, is helping to transform research, professional development, how we communicate and collaborative creation.
This workshop, one of four pre events in the sector that will be included as part of the Aporta Meeting 2017 this year, will take place at the National Library of Spain (BNE).
The BNE Director, Ana Santos Aramburo, and the Director General of Red.es, José Manuel Leceta, will open the meeting at 9.30. Then, an introductory talk will take place, "What to do, why data?" which will be directed by Marcelo Soria-Rodríguez, partner at Tramontana. Afterwards, there will be the talk "The leading role of Administration" (10:30) by Manuel Ruiz del Corral, representative of MECD. At 10:45, the round table "Data for research" will begin, which will include participation from Pura Fernández, of CSIC, who will show how data is being used in the EDI-RED project and Juan de Dios Llorens, from SESIAD, whose participation is entitled "open data and language technology, an opportunity we cannot miss". Next, at 12:00, the table "Data for corporate and professional (re)creation" where  Elena González-Blanco, from Indra (Minsait), Paula Carrión, from Kantar Insight Spain and Valentín Fernández, from Telefónica Open Future will participate. The final debate of the workshops will focus on Data for social collaborative (re)creation, from 13:00 onwards, where Daniel Villatoro (Databeers), Juan Quemada (Hackforgood), and Cristina Aranda (MujeresTech) will contribute.
The first conclusions of the workshop, promoted by the National Library of Spain (BNE), Red.es and the Spanish Society for Scientific Documentation and Information (SEDIC), will be presented by Agnés Ponsati Obiols, Director of the Digital Library and Information Systems of the BNE, in the afternoon workshop of the Aporta Meeting 2017, which will take place on October 24th in Madrid.
The workshop "The culture of open data" has its own website where you can find more information, see details on the schedule and access the form to register for the event, for free.
You can follow the event live online at http://www.bne.es/es/ComunidadBNE/Retransmisiones/1019-Jornada-Laculturaylosdatosabiertos, and on social media via the hashtags #culturaenabierto and #BNEAporta.