How is open data used in the health and welfare sector?
Share
Fecha de la noticia: 31-08-2021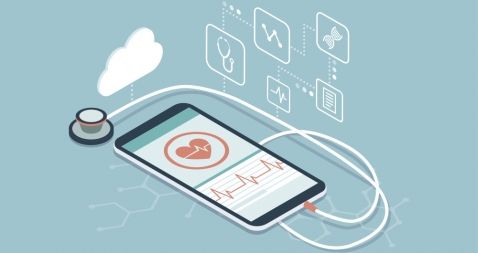 In the last year, we have seen how decisions on health matters have marked the political, social and economic agenda of our country, due to the global pandemic situation resulting from COVID-19. Decisions taken on the basis of public data on cumulative incidence, hospital bed occupancy or vaccination rates have marked our daily lives.
This fact highlights the importance of open health data for the management and decision-making of our governments, but it is also fundamental as a basis for solutions that help both patients and doctors.
The types of data used in the field of health and wellbeing are numerous: results of medical studies and research, anonymised patient records, data on patients' habits (such as how much exercise we do or how much sleep we get) or data linked to health services and management. All these data are of great value that can be exploited by healthcare professionals, providers and citizens alike.
How have health services been using open data?
According to the study "The Open Data Impact Map", a project of the Open Data for Development Network (OD4D), health-related organisations use open data mainly for the purpose of optimising their management and organisation of resources. Of the 124 organisations interviewed in 2018, only 19 indicated that they use open data for the development of health products and services, and only 13 for research. The same study indicates that the most widely used open data are those directly related to health, and that very few organisations combine them with datasets from other themes - mainly geospatial or demographic or social indicators - to generate deeper and more detailed knowledge.
However, the opportunities in this field are vast, as shown below.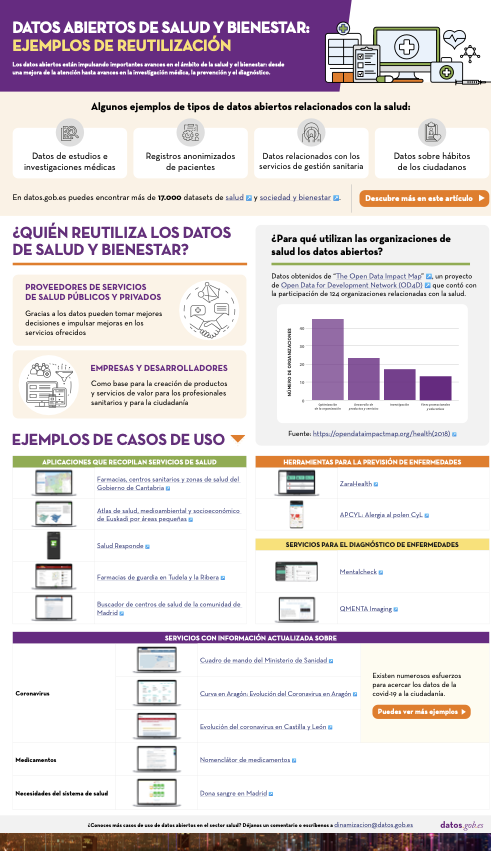 Click here to see the infographic in full size and in its accessible version
Examples of services based on open health data
The situation seems to be changing and there is increasing momentum for the implementation of applications, services or projects based on data in this field. Europe is committed to the creation of data spaces focused on the field of health, as part of its strategy to build a European cloud, while the Spanish government has included the promotion of Digital Health solutions in its Digital Spain 2025 strategy. Among the actions envisaged by our country is the streamlining of information systems to enable better data sharing and interoperability.
Applications that collect health services
When it comes to health apps, the most common are those that help citizens find local healthcare providers that meet their needs. An example is 24-hour pharmacies in Tudela and la Ribera or the search engine for health centres in the community of Madrid. Thanks to these, patients can find out where the centres are located and find out information of interest, such as opening hours. Some applications include additional services, such as Salud Responde, from the Junta de Andalucía, which allows the request and modification of medical appointments, improving the efficiency of the system.
But such services can also provide important information for more efficient resource management, especially when cross-referenced with other datasets. For example, Pharmacies, Health Centres and Health Areas of the Government of Cantabria, developed by Esri, includes information on the territorial organisation of health resources according to geographical, demographic, epidemiological, socio-economic, labour, cultural, climatological and transport factors. Its main objective is not only to facilitate citizens' access to this information, but also to ensure that "the provision of health services is carried out in the best conditions of accessibility, efficiency and quality".
The Health, environmental and socio-economic atlas of the Basque Country by small areas shows a series of maps with the aim of "monitoring geographical inequalities in health, socioeconomic and environmental indicators in the Basque Country, taking into account the gender perspective". This information is very useful for service managers in trying to promote greater equity in access to healthcare.
Disease prevention tools
There are also applications on the market aimed at disease prevention, such as ZaraHealth, a web application that displays real-time data on water quality, air quality and pollen levels in the city of Zaragoza. The user can set a series of thresholds for pollen and pollution levels, so that a warning is issued when they are reached. In this way, they can avoid going outdoors or exercising in areas that do not meet their needs. APCYL: Allergy to pollen CyL has the same goal.
Another important aspect of our health is our diet, a key factor in the prevention of various pathologies such as cardiovascular diseases or diabetes. Websites such as Mils, which offers detailed nutritional information on food, can help us to eat more healthily.
Services for the diagnosis and treatment of diseases
Open data can help assess health outcomes, develop more effective treatments and predict disease outbreaks.
In the field of mental health, for example, we find Mentalcheck, an app that enables psychological assessments and self-reporting via mobile devices. It aims to improve Ecological Momentary Assessment and Intervention (EMA and EMI). The application incorporates open data on medications and mental health services from the US Food and Drug Administration (FDA). It also allows the integration of psychological and physiological data to generate correlations.
Another example is Qmenta, a company focused on analysing brain data, using MRI and related clinical data. In recent months they have also incorporated open data related to COVID-19 in some of their work. Through medical image processing algorithms, they seek to accelerate the development of new therapies for neurological diseases.
Up-to-date information on diseases or system needs
Another area where open data can drive improvements is in the reporting of certain situations. This has become especially important in the context of the global pandemic where citizens demand constant and updated information. In this sense, we find the scorecard of the Ministry of Health at state level and different regional initiatives, such as Curve in Aragon: Evolution of Coronavirus in Aragon, or Evolution of the coronavirus in Castilla y León. These are just a couple of examples, but it should be noted that there are numerous efforts in this area, as the Ministry of Health reports on its website.
It is also important to make information on medicines transparent, both for doctors and patients, by facilitating comparisons. In this regard, the Nomenclature of Medicines shows more than 20,000 medicines marketed in Spain with Social Security coverage, offering information on price, presentation, links to the package leaflet, safety notes and active ingredients, among others.
Finally, it is also important to provide information on resource needs, for example, doctor vacancies or the state of blood reserves.
Data in general has driven important advances in improving health outcomes, from increased access to care to medical research and diagnosis. Open data is a key ingredient that can help further enrich these solutions with new variables. It is therefore essential that more and more health and wellness data will be opened, following a set of guidelines and standards that ensure the privacy and security of patients. In this sense, the report "Open data and health: technological context, stakeholders and legal framework" includes information on what types of data can be opened and what the legal framework says about it.
Do you know more use cases of open data applied to the health and welfare sector? Leave us a comment or write to dinamizacion@datos.gob.es.
---
Content prepared by the datos.gob.es team.
Ficheros adjuntos: